"You didn't run the code locally and bug check it before you submitted it, did you?"
I knew I hadn't. I should have, but, it had been so late and I was so tired. I'd written the LHCb trigger code update in a hurry. It was cobbled together, a mess, barely – if at all – functional. I knew I'd dropped the ball on this one and I had to apologise. The experiment wouldn't be able to power up and run for several hours because of me. Because of me, vital run time and vital data would be lost. Because of me, the head of the experiment was calling me internationally at 6am. Because of me, the progress of science and the march of progress would be slowed.
"Did you?…"
For some reason, that second prod changed everything. It didn't feel like a question. It felt like a jibe, an insinuation, an attack. The initial emotional reaction of disappointment, embarrassment and acquiescence subsided, and was replaced by an unjustified irritation, an unvalidated desire to fight back and before I knew it….
"Of course I did! It must have been some snarl up in the submission process!"
I didn't know why I came out swinging. I didn't know why I let my visceral and fleeting emotional response get the better of me, and, earlier today, I still didn't know why this episode had returned to me, in full and embarrassing mental technicolour and surround sound, whilst reading about the recent marches for science. But, I've learned to recognize when my sub-conscious is telling me something, to accept that my mind is away making patterns that I haven't even begun to appreciate consciously.
Now, I think I might understand…
When this event returned to me, I was flicking through the entries in a recent Slate article:
http://www.slate.com/blogs/the_slatest/2017/04/22/here_are_some_of_the_best_signs_from_the_march_for_science.html
The article opens with the following (and only) paragraph:
"Tens of thousands of people gathered in hundreds of rallies around the world on Earth Day in what was described as a "celebration" of science and support for evidence-based policies. Although the marches were billed as a way to emphasize "the vital role science plays in our democracy" they were largely protests against President Donald Trump's proposed cuts in budgets for science and research program as well as his well-documented skepticism of climate change. "We didn't choose to be in this battle, but it has come to the point where we have to fight because the stakes are too great," climate scientist Michael Mann said.
This was the introduction that set my sub-conscious whirring, because, although I really love the signs outlined in the article, I am not the one that needs to feel their impact, and I fear, as much as I love science and support my fellow scientists, science communicators and science advocates, I fear many on the march, by attacking Trump, may have been barking at the moon.
Marching to highlight "the vital role science plays in our democracy"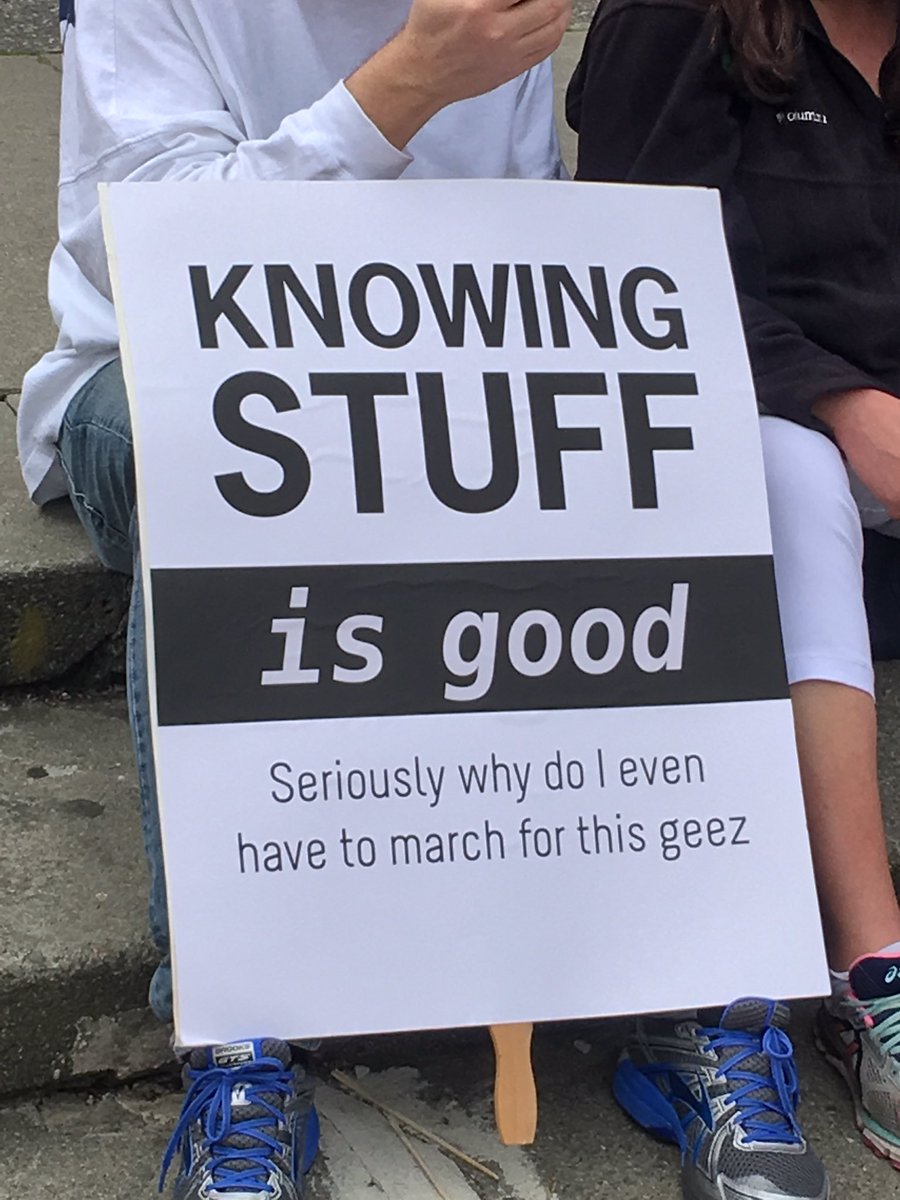 Many are expressing the sentiment that you shouldn't have to march for the scientific method and facts. It's surely self evidently true that the scientific method is the best way to delineate fact from the fiction and the key to humanity's progress. But, who is this sentiment aimed at?
Let's start by assuming it is aimed at Trump himself and his cabinet.
Do you really think that there aren't incredibly smart people within his administration that realise the power of science and it's application? Trump's campaign team executed the scientific method perfectly. They performed a review of the evidence that indicated that huge swathes of Americans felt disconnected, under-represented and disenfranchised. They created a hypothesis that these people could be engaged, incentivized and mobilised. Then they put the MAGA experiment into over-drive. The project that offered a simple message, promises of taking back control and a bright future. Trump's campaign team and cabinet do understand the importance of science, it's just the importance of the relatively nascent field of neuroscience and how their messages can sway the emotional reactions of large crowds. It's hardly like their messages were rocket science, history is littered with examples of large sections of society being swayed by simplistic and easily digested promises, and these examples don't all relate to Nazi Germany or Stalin's Russia….anyone remember these?…
Trump even went through peer review, it was the peer review of the American people.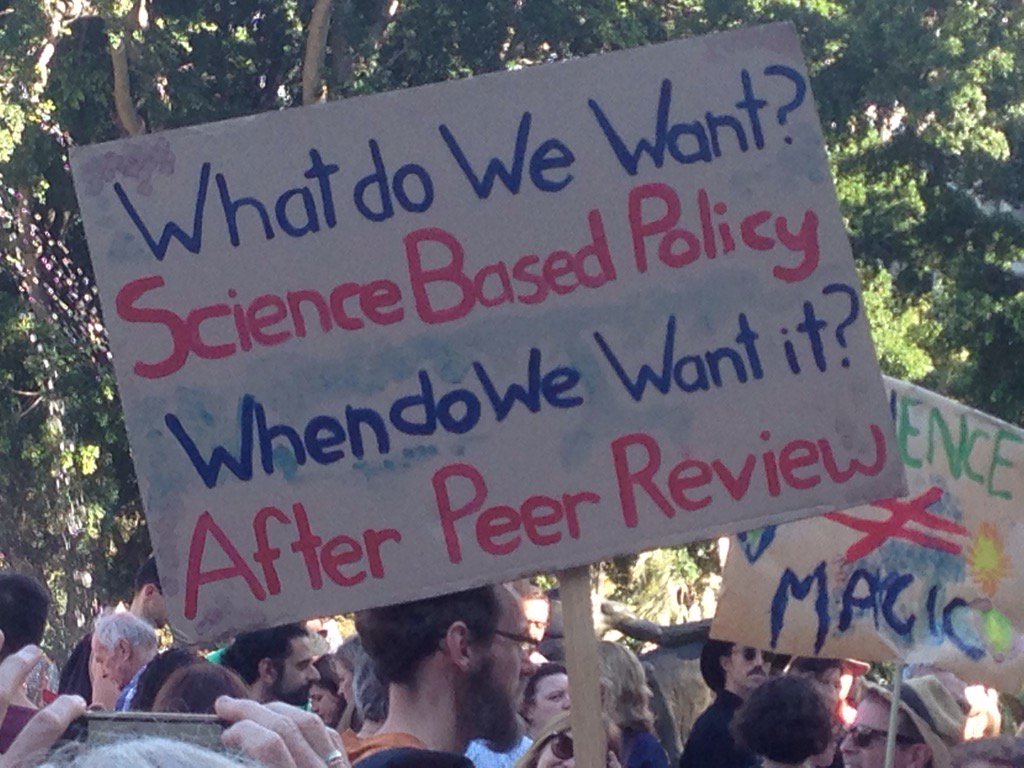 Why did Trump win the recent election?
I'm no political expert, but it strikes me from reading article after article like the following:
http://www.vox.com/2016/4/21/11451378/smug-american-liberalism
https://www.theguardian.com/media/2016/oct/13/liberal-media-bias-working-class-americans
http://thehill.com/blogs/in-the-know/in-the-know/312322-anthony-bourdain-trump-won-because-people-were-sick-of
that large swathes of everyday Americans were tired of being treated like brainless, backwards, gun-toting morons.
Into this arena stepped Donald Trump, a man with no respect or regard for the "liberal elite", but a tonne of promises to "stick it to them" and fight for the little guy, the every-man, the disenfranchised.
It didn't matter that his policies and promises were often riddled with vague and hazy promises, "alternative facts" and outright bigoted, xenophobic and sexist remarks. What mattered, just as what mattered to an exposed me in my pyjamas, was the emotional reaction. The excitement to get behind a project, to be on the front foot, to come out swinging, to be fighting to "make America great again". That's all that mattered and facts could largely be damned.
So, what should we really fighting for when we want to highlight "the vital role science plays in our democracy?" We shouldn't be fighting to highlight the importance of science to the government, they already realise it, we need to fight to make the importance of the scientific method and it's application known to every voter. Because, a knowledgeable and well-informed public will demand equally well-informed electoral campaigns and policy.
Armed with this method, any would-be-voter could have seen the holes in Trump's claims, promises and pledges and hold him to account. However, without that method, as we have seen, we are prey to our emotions, susceptible to believing what we wish to be true (whether it be about Mexicans, the Chinese, the Russians or whoever) and open to unjustified persuasion. This is what it means to be clouded by bias….and, although I'm always loathe to invoke "Godwin's Law", the warnings from history are stark…
I'd argue that, currently, those that consciously and consistently employ the scientific method are a significant minority (hell….they felt they needed a march!) and this allows and encourages (would-be) administrations to run election campaigns and pass legislation that caters more to our emotional reactions than our intrinsic needs. We need, and deserve, a better metric for good governance.
So, how do we convince the public at large that they should overcome their initial emotion reaction, the immediate instinct of their reptilian brain and throw in with the scientific method of hard evidence and critical thinking? Well, firstly, we have to accept that we are all equally and constantly under assault by bias. We all fall prey to our emotions, we all act irrationally and we fail to understand how unconsciously clouded by bias our thoughts and action are.
Don't believe me? Try telling someone extremely smart that they are stupid or someone sporty that they are fat. Do you think they can unplug their emotional reaction from your comments and employ pure reason to bat you off? Now travel to your local sports arena and try telling a group of chanting, liquored up, die-hard fans that the home team are garbage….tell me your results.
Here's a slightly more concrete example which I use in my science comedy shows, to show how biased large public groups can be.
Before scrolling down, answer the following question with your first reaction:
The honest answer you would expect to receive when asking this question is shown below. It is known as the "normal" distribution. Most people accept that they are of average fitness, whereas only a few are extremely fit and only a few are incredibly unfit.
However, here is the aggregate response received from asking this question to over a 1,000 members of the British public:
The response is clearly widely and inaccurately skewed towards high levels of fitness. This is an example of a thinking of cognitive bias known, unsurprisingly, as the over confidence bias. Cognitive biases make our intuitive understanding of the world and ourselves illogical and irrational and there are an incredible number of such biases that have been identified by scientific studies. The Wikipedia page on cognitive biases contains over 200 individual biases and these are only those that have as yet been identified!
Wikipedia of cognitive biases:
So,  when we fight and march for science, we must realise that we are fighting for a cause, framework and methodology that seeks not only to improve the technological and intellectual capacities of our shared world, but which also seeks to improve the critical reasoning skills of each and every one of us and diffuse the mental obstacles thrown our way by evolution. We all stand to benefit. So, when we march to maintain a well-funded and unconstrained scientific community, we must learn the lessons of the recent U.S election.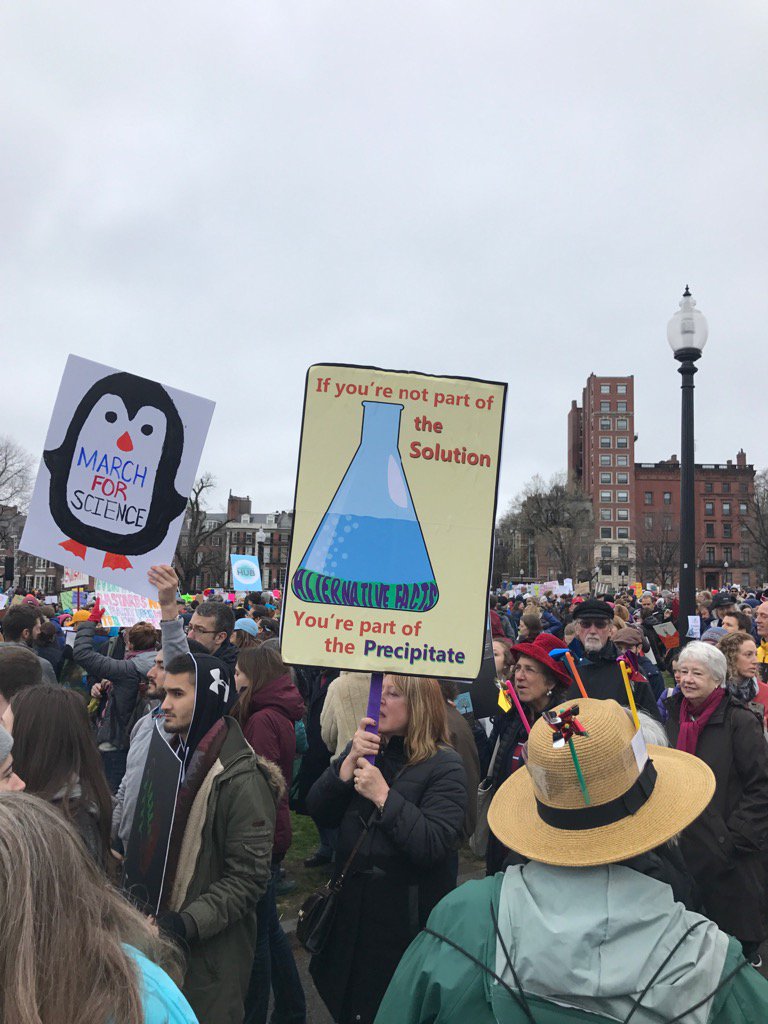 Science is not a partisan pursuit. The fight for science is a fight to prove that those that advocate, champion and extol the scientific method have a way of looking at the world that trumps (pun intended) others. But, the worst way to get this across, as we have seen, is to look down upon, sneer at or alienate those that have a different opinion.
In the end, science benefits everyone, from the LHC physicist working wirelessly on his experiment from Cambridge to the lay pastor in Texas that wants to order a new megaphone from Amazon. If we don't sell science on this level and meet people half way, we are on a hiding to nothing.
Our world, and by extension everyone in it, are faced with many dire crises: the energy crisis, global warming, antibiotic resistance. The solution for all these crises will be born out of global scientific collaboration, and the rich democracies of the world will likely lead the way.
We'd better realise we are all in the same boat, or we might be sooner than you'd think…
Science does play a crucial role in our democracy, but currently it's a role is too easily subverted to one of control and subterfuge. We need to strive to create a well-informed, scientifically literate population that can resist such subversion.
I hope, and having seen the turn outs this weekend am sure, that there is a motivated, and diverse scientific community fighting to make this dream a reality. It is important to march and to make our voice heard, we just need to be clear regarding what we want that voice to say.
We have a long way to go, but [see below]…
Peace x